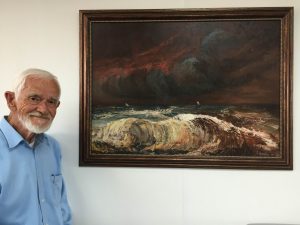 Stürmische See
Dieter Zimmermann, 2008
Oil on canvas board
895 mm x 640 mm
Artists like artists!
August last year (2016), my work colleague and fellow artist Dieter Zimmermann, approached me for help with a painting that he had almost completed in 2008 but which needed a varnish topcoat to finish the piece. I recommended a thermoplastic acrylic solution diluted with mineral turpentine. The clear coat did a great job and Dieter brought the painting into our offices for me to see up close.
The moment I cast my eyes upon it I was captivated. I not only offered to have it framed but kindly asked Dieter if I could purchase his painting for myself. Without hesitation he agreed (after all, he had bought some of my pieces in the past) and a deal was struck! All that remained was to agree on a title and "Stürmische See" was considered to be just right.
I look upon it often as it hangs in my bedroom and greets me each day that I awake from my dreams. The menacing copper sky, filled with dark foreboding sooty clouds, is reflected in the frothy, foaming water below. A storm is coming fast, a tempest of Biblical proportions which makes the plight of the two sailing boats caught in the distance, even more perilous. As these pitiful craft, with their attendant crews, scoot home to the safety of the harbour it reminds me of how tenuous life can be and that the old adage "worse things happen at sea" is not without some foundation.
Thank you my dear friend for a true masterpiece and such an evocative portrayal of the forces of nature.